The Garden
The Garden offers a quiet, secluded area for older, more sensitive dogs to stay. All kennels are heated and it has its own large secure grass paddock, away from the main kennels. The Garden can be requested but not booked.
Your dog's accomodation
All dogs are kenneled individually, although kennels are large enough for family boarding if required. All kennels are heated and cleaned thoroughly every day.
A warm bed and bedding is provided, although you are welcome to bring your own if you prefer. You may also wish to bring any of your dog's favourite toys or chews.
The Garden has its own secluded and secure grass paddock, away from the main kennels.
Our experienced team will ensure your dog's stay is as comfortable as possible and regularly check on all dogs. If your dog has any special requirements that will make their stay more comfortable, do let us know.
What to bring
Please bring your dog's vaccination record with you. For the well-being of all our dogs, it's vital that your dog is up to date with all vaccinations including the Kennel Cough vaccination.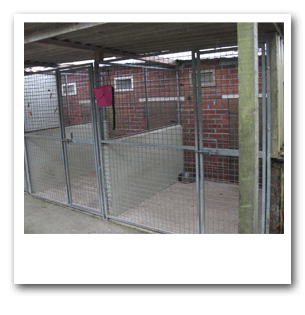 We stock a range of food, although we are more than happy for you to bring your own. If you have any special requirements for your dog, or supplements / medication, do let us know.
Your dog's daily routine
Our priority is to make sure your dog feels as at home as possible, so you can leave them knowing they are enjoying the highest standards of care. Music is played all day to make them feel at home.
At 8am, all dogs are woken up and taken out into our secure paddocks. From 2pm, dogs are treated to individual runs and playtime in our secure paddocks.
We feed all dogs twice a day (unless you advise otherwise).
Veterinary attention will of course be sought if needed, the cost of which will be borne by the owner.

Opening times
We are open 7 days a week (9am – 12.30pm).
We are closed on all bank holidays.
All hours are strictly adhered to.
Why do we close at 12.30pm?
We close to the public at 12.30pm so that we can dedicate the rest of the day to looking after the dogs and playing with them. Their well-being is one of our primary concerns so by closing to the public at 12.30, our team can give them their full attention.
Why not come and visit us first?
You are welcome to pop in and visit us anytime during our opening hours. Whether you want to see our facilities for yourself or just meet the team, you are always welcome.
Find out more
For more details or to arrange a no-obligation visit to view our kennels, call us on 01752 837477
We look forward to welcoming your dog to West Rook Farm Boarding Kennels.
Cattery
If you're looking for a cattery in Plymouth, we also provide accomodation for cats at West Rook Farm, situated away from the kennels. Click here to find out more.